Cat6 SF/UTP 23 AWG Solid Cable
D-Link solid cables are the best twisted-pair cables in the market for transmitting data over Local Area Networks (LANs). These cables exceed performance requirements specified by the TIA/EIA-568C.2 and IEC 60603-7-4 standards.

D-Link Cat6 cables reduce crosstalk and system noise. The superior
insulation around the 23 AWG copper wires attribute to the increased performance. They can transmit data at 1000 Mbps (~1 Gigabit per second) with a frequency of 250 MHz and suitable for 10BASE-T, 100BASE-TX Fast Ethernet and 1000BASE T/1000BASE-TX (Gigabit Ethernet). Enhanced performance cable for transmission of high speed
data, digital and analogue voice and video (RGB) signals on LANs.
Supports Gigabit Ethernet (1000 baseT) standard. Operates at bandwidth
of 250 MHz. This cable well exceeds the requirements of ANSI/TIA-568-
C.2. Tinned Copper Screening gives Protection against EMI and avoid signal loss. Better Mechanical Properties of Cable. Individual Pair Shielding Provides Higher protection against Crosstalk.
4 Pairs Foiled Twisted Pair screened with tinned copper
braiding (SF/UTP) Cable
• Conductor Metal: 23 AWG Solid Bare Copper
• Shielding: Aluminum/Polyester Foil
• Screened: Tinned Copper Braiding
• Color Code: Grey
• Jacket Material: PVC
• Cable Diameter : 7.6mm Nominal
• Verified compliant with TIA/EIA-568C.2 standards
• CUL listed
• RoHs
• Mutual Capacitance: 5.6nF/100m nominal
• Characteristic Impedance: 100Ω±5%
• Nominal Velocity of Propagation: 69%
• Conductor Resistance: < 9.38Ω/100m
• Resistance Unbalance: 5 % Max
• Capacitance Unbalance: 330pF/100m
• Delay Skew: < 45nS
• Bending Radius: : < 8 x Cable Diameter at –20°C ± 1°C
• Pulling Force: : 11.5 kgs
• Temperature Range: : -20°to +70°C
• Dielectric Strength: 2.5 KVDC for 2 seconds
• Insulation Resistance: 5000M ohm-km
TRANSMISSION CHARACTERISTICS meets or exceed ANSI/TIA--568--C.2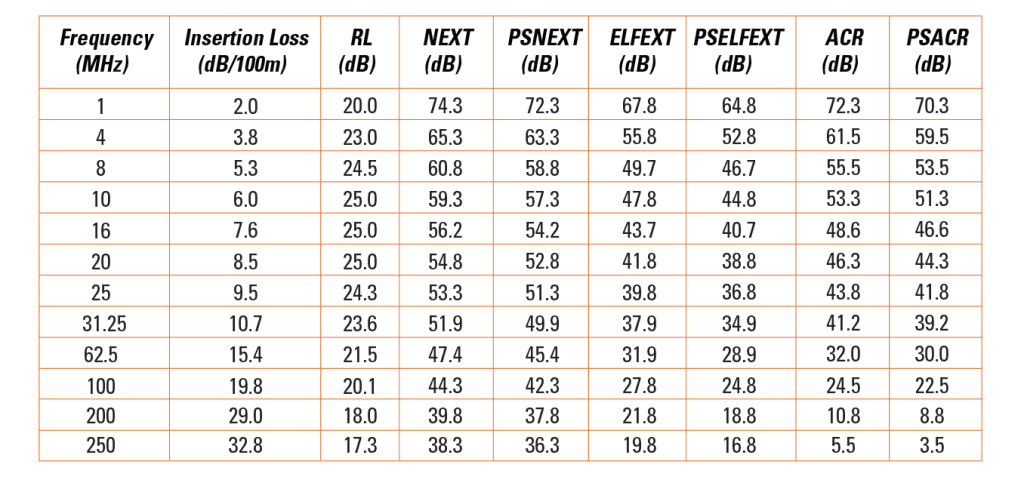 Want to know about new products
Subscribe to our newsletter