D-Link 4-Port USB KVM Switch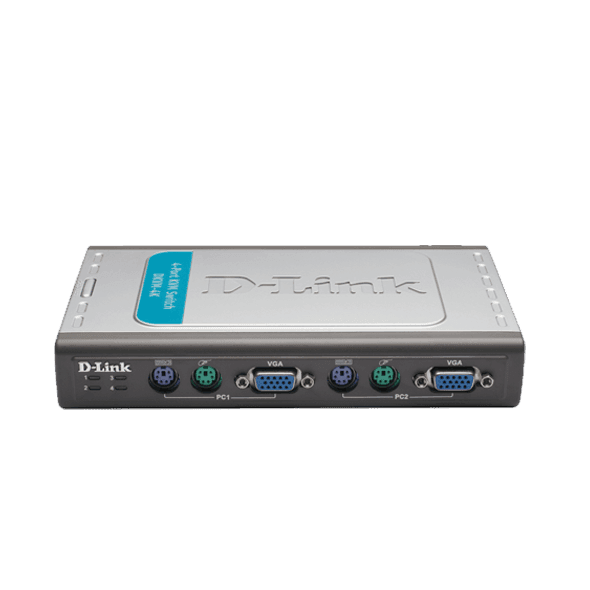 USB KVM Switch For 4 PCs The D-Link DKVM-4U KVM switch is a handy device that allows you to control up to 4 PCs using only one monitor, keyboard and mouse. The monitor and the two input devices are connected directly to this KVM switch and not to the client computers. For office users with a need for several PCs, this KVM switch box eliminates the need for several monitors, keyboards and mice, saving the money and desktop space. The DKVM-4U is also a cost effective solution for control of several servers in a computer room, allowing an engineer to handily manipulate all connected computers from a single monitor, keyboard and mouse.
The DKVM-4U allows you to control up to 4 computers from a single keyboard, monitor and mouse, so you don't have to purchase a monitor, keyboard and mouse for each PC. Your desktop will also look less chaotic. Your KVM switch can be placed underneath your desk, with 4 sets to KVM cables connecting from this switch box to 4 computers. Each KVM cable set includes a video cable for PC's VGA connector, and a single USB 2.0 cable for the PC's USB port. From the KVM switch box, you can connect to 2 USB devices: a USB keyboard and a USB mouse. 2 sets of KVM cables are provided for ready connection to 2 computers, the remaining KVM cables are optional.
General

Keyboard & Mouse: 4 x USB 2.0
Monitor: 4 x DB-15 HDDB

Keyboard: 1 x USB female
Mouse: 1 x USB female
Monitor: 1 x DB-15 HDDB female VGA, SVGA, XGA, MultiSync

Monitor Resolution Support

Keyboard Hot Keys
Select Button

7" x 4.1" x 1.2" (178mm x 105mm x 30.5 mm)

Minimum System Requirements

Computer with: Windows® 7, Windows Vista®, Windows® 2000, Windows 98SE, or Mac OS (9.0 and higher)
USB keyboard
USB mouse
VGA monitor
Computers with available USB ports

32°F to 122°F (0°C to 50°C)
Want to know about new products
Subscribe to our newsletter