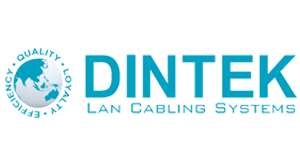 DINTEK Continuity Twin-Testers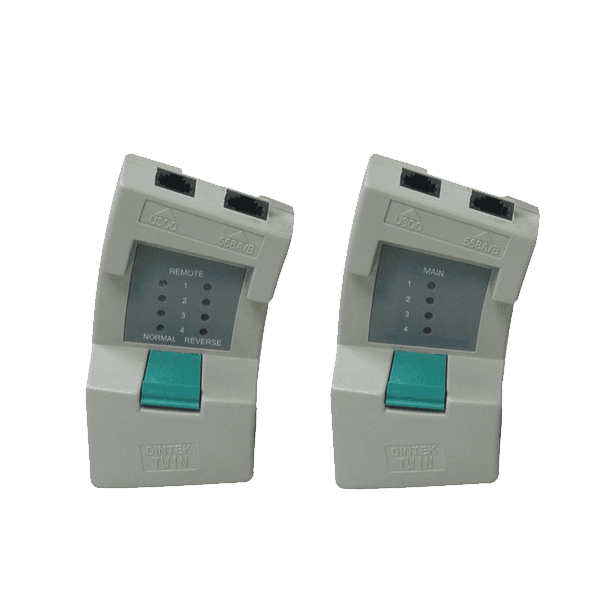 The DINTEK twin tester provides instant identification of most common voice and data cabling problems including shorts, opens, reversals, and incorrect polarity.
The master and remote units separate for end-to-end testing of installed cabling or work separately as independent patch cord test units. Both pieces simply snap and lock together when not in use, making it easy to carry and store. Designed to fit neatly into a toolbox or pocket, the UTP tester has a convenient 'ring' feature for attaching to a belt or frame.
The UTP tester should be used to check each channel from the station device to the system.
Innovative 2-in-1 design
Features modular jacks for testing USOC and 568A/B cabling systems
Accurately verifies the continuity and sequence of 1-,2-,3-, & 4-pairs
Continuously-sequencing LED display provides a diagnostic readout
Immediately detects shorts, opens, reversals, and mis-wires
Simple snap and lock master and remote unit design
Ergonomically designed hand-held unit
Light weight, rugged, and impact-resistant
Requires 9 volt alkaline battery (not included)
Materials: ABS
Distance: 1,000m (3,280ft)
Power requirements: 9 volt battery (standard or alkaline)
Weight: 240g (9 oz.)
Built-in interface: USOC, EIA 568B
Contact specification: 30 u" gold over nickel
Function 1 - Patch Cord Test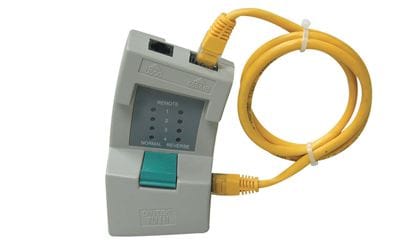 Function 2 - End to End Test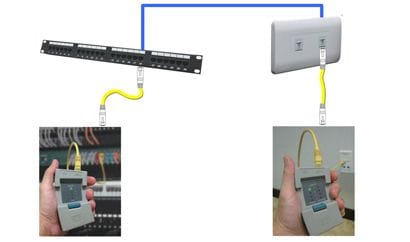 Want to know about new products
Subscribe to our newsletter