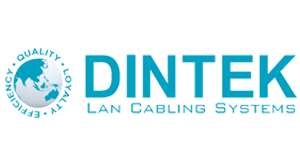 DINTEK FIBER SLIDING PATCH PANEL SC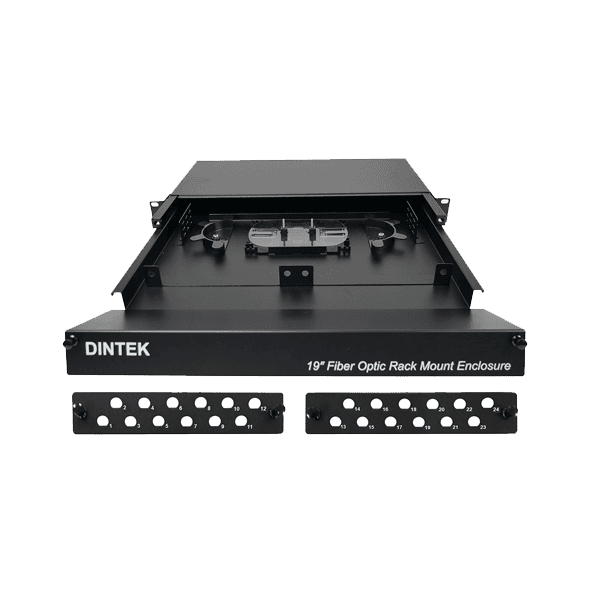 DINTEK Light-LINKSTM 1U rack mount fiber optic splice and termination enclosures provide an economical and quality solution for installations of any size, where direct termination or pigtail splicing is required.
The typical use of these enclosures includes situations where outside plant cables are terminated onto the back of the adapter plate or where pigtails are spliced onto the incoming cable. These enclosures are also used as point-to-point patch connections or as end termination for backbone spurs in the Telecom environment.
The Light-LINKSTM 1U, 2U, and 4U fiber optic enclosure range comes in two designs, sliding and fixed type. The units can be purchased as a base unit without adapter plates or with adapter plates included depending upon the customer's preference.
Designed for fiber optical backbone cabling applications
Snap-in adapter plates and removable cover provides for easy access and installation
Fixed type & sliding-type enclosure options available
Easily added to existing multimedia installations that will require fiber terminations
Splice tray, sleeves, and LC, SC, ST adapters are available separately to load into the enclosure (optional)
1U size gives up to 24 or 48 depending on adapter type
2U size gives up to 48 or 96 depending on adapter type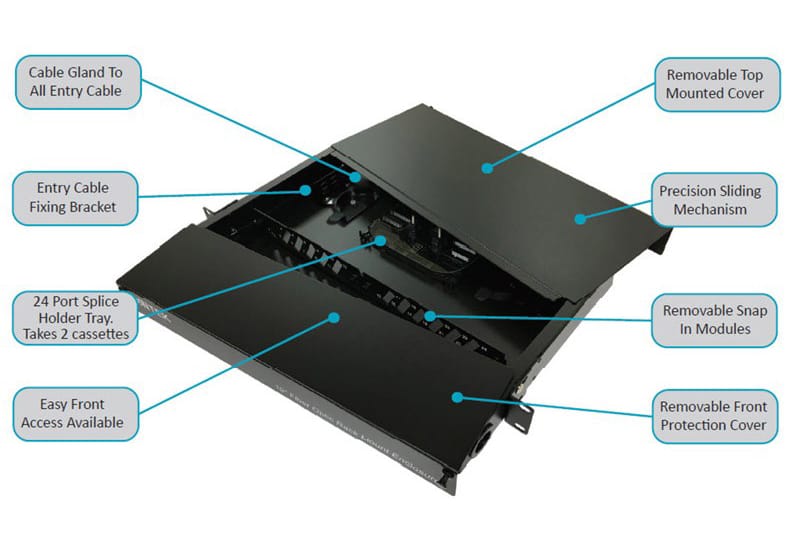 1U - Sliding Fiber Enclosure Tray - With ST Plates
NOTE: Adaptors not included
Standards ISO/IEC 11801
Cenelec EN 50173-1 / TIA-568 C.0
Data Center Cenelec EN 50173-5
ISO/IEC 24764/ TIA-942
Per 19" rack mounts requirements
Material: Iron – Powder Coated Black
Dimensions:
1U –  h 44mm x w 482mm x d 300mm
2U –  h 88mm x w 482mm x d 300mm
Want to know about new products
Subscribe to our newsletter