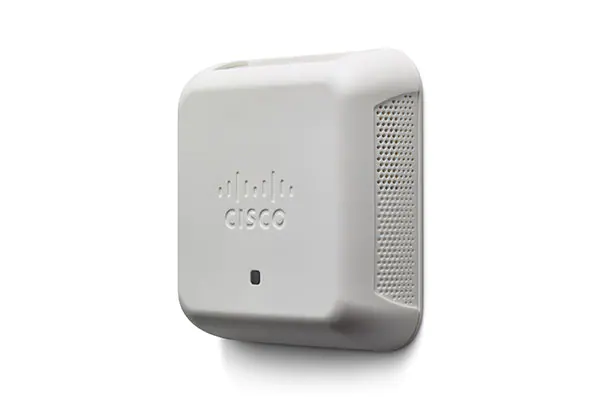 Cisco WAP150 Wireless-AC/N Dual Radio Access Point with PoE
Provides cost-effective 802.11ac connectivity with speed up to 1.2 Gbps Gigabit Ethernet LAN interface with Power over Ethernet (PoE) can enable flexible installation Secure guest WiFi access with 3rd party cloud managed guest WiFi services support Cisco Umbrella integration to protect wireless devices from malware and phishing Single Point Setup requires no controller, for easy, cost-effective deployment of multiple access points
In today's dynamic business environment, employees are becoming more mobile and collaborative than ever. Businesses are now depending on cloud applications like Office 365 or Gmail. To stay productive, they need reliable, and fast wireless network to access mission critical applications with no delays.
The Cisco WAP150 Wireless-AC/N Dual Radio Access Point provide a simple, cost-effective and secure wireless networking to your employees and guests, so they can have the best experience to stay connected anywhere in the office. This flexible solution lets you connect dozens of employees, and can scale to accommodate additional users and changing business needs.
The WAP150 access point uses concurrent dual-band radios for improved coverage on mobile devices. Gigabit Ethernet LAN interfaces with Power over Ethernet (PoE) support flexible installation and can reduce cabling and wiring costs. Intelligent Quality-of-Service (QoS) features let you prioritize bandwidth-sensitive traffic for Voice over IP (VoIP) and video applications.
To provide highly secure guest WiFi access to visitors and other users, the WAP150 access points support a captive portal with multiple authentication options and the ability to configure rights, roles, and bandwidth. A customized guest login page lets you present a welcome message and access details, and reinforces your brand with company logos. The WAP150 access point also offers support for 3rd party could managed guest WiFi services allowing you to control internet access for guests and give your customers a better guest WiFi experience.
The WAP150 Wireless-AC/N Dual Radio Access Point is easy to set up and use, with intuitive mobile friendly wizard-based configuration to get you up and running in minutes. An attractive design with flexible mounting options allows the access points to blend well into any small business environment.
To enhance reliability and safeguard sensitive business information, WAP150 access points support both Wi-Fi Protected Access (WPA) Personal and Enterprise, encoding all your wireless transmissions with powerful encryption. In addition, 802.1X RADIUS authentication helps keep unauthorized users out. The WAP150 access point is now integrated with Cisco Umbrella to protect employee and guest WiFi against web threats such as malware, ransomware and more.
Designed to scale smoothly as your organization grows, the access point features controller-less Single Point Setup, which simplifies the deployment of multiple access points without additional hardware. With WAP150 access points, you can extend business-class wireless networking to employees and guests anywhere in the office, with the flexibility to meet new business needs for years to come.
Figure 1 shows a typical wireless access point configuration. Figures 2 and 3 show the product's front and back panels, respectively.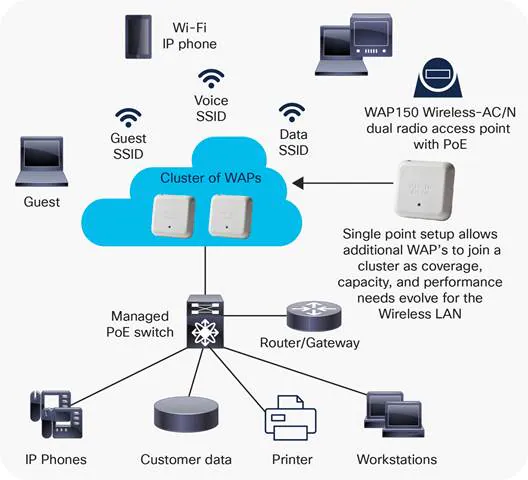 Typical wireless access point configuration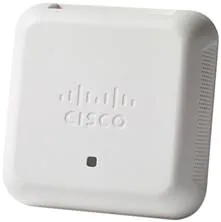 Front Panel of a WAP150 Wireless-AC/N dual radio access point with PoE

Back Panel of a WAP150 Wireless-AC/N dual radio access point with PoE
●     The concurrent dual-band radio supports up to 1.2 Gbps for increase capacity and coverage
●     Single Point Setup, a controller-less technology, simplifies the deployment and management of multiple access points, without requiring additional hardware
●     The Gigabit Ethernet LAN interface can enable a high-speed uplink to the wired network
●     Robust security, including WPA2, 802.1X with RADIUS secure authentication, and rogue access point detection, helps protect sensitive business information
●     A captive portal support supports highly secure, customized guest access with multiple rights and roles
●     Simple installation and an intuitive web-based configuration and wizard can enable fast, simple deployment and setup in minutes
●     Support Plug and Play feature for mass deployments, when using FindIT network management platform
●     Support for PoE Powered Device (PD) can enable easy installation without expensive additional wiring
●     Sleek design with multiple internal antennas
●     Versatile mounting can enable installation on a ceiling, wall, or desktop
●     Intelligent QoS prioritizes network traffic to help keep critical network applications running at top performance
●     Workgroup Bridge mode lets you expand your network by wirelessly connecting to a second Ethernet network
Specifications at a Glance
| Specifications | Description |
| --- | --- |
| | IEEE 802.11ac, 802.11n, 802.11g, 802.11b, 802.3af, 802.3u, 802.1X (security authentication), 802.1Q (VLAN), 802.1D (Spanning Tree), 802.11i (WPA2 security), 802.11e (wireless QoS), IPv4 (RFC 791), IPv6 (RFC 2460) |
| | LAN Gigabit Ethernet auto-sensing |
| | |
| | Internal antennas optimized for installation on a wall |
| | |
| | |
| Specifications | Description |
| --- | --- |
| | 10/100/1000 Ethernet, with support for 802.3af /at PoE, power port for AC adapter (included) |
| | Reset button, power on/off push button |
| | |
| | |
| | |
| Specifications | Description |
| --- | --- |
| Physical dimensions (W x D x H) | 5.31 x 5.31x 1.5 in. (135 x 135 x 38 mm) |
| | |
| Specifications | Description |
| --- | --- |
| | |
| | 1 management VLAN plus 8 VLANs for SSIDs |
| | |
| | |
| | |
| | |
| | |
| | Yes ● IPv6 host support ● IPv6 RADIUS, syslog, Network Time Protocol (NTP) |
| | 802.1Q-based VLANS, 8 active VLANs plus 1 management VLAN |
| Specifications | Description |
| --- | --- |
| | Yes, including Enterprise authentication |
| | Yes, management Access Control List (ACL) plus MAC ACL |
| | |
| | |
| Rogue access point detection | |
Mounting and Physical Security
| Specifications | Description |
| --- | --- |
| Multiple mounting options | |
| | |
| Specifications | Description |
| --- | --- |
| | Wi-Fi Multimedia and Traffic Specification (WMM TSPEC), client QoS |
| Specifications | Description |
| --- | --- |
| | Up to 1.2 Gbps data rate (real-world throughput will vary) |
| | Up to 64 connective users, 10 active users per radio |
Multiple-Access Point Management
| Specifications | Description |
| --- | --- |
| | |
| Number of access points per cluster | |
| Active clients per cluster | |
| Specifications | Description |
| --- | --- |
| | Built-in web user interface for easy browser-based configuration (HTTP, HTTPS) |
Want to know about new products
Subscribe to our newsletter