D-Link Wireless AX3000 Dual Band PCI Express Adapter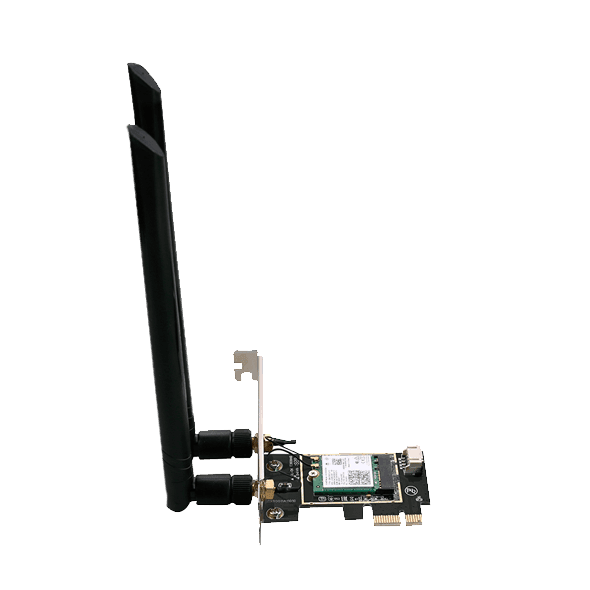 Adapter connects your desktop computer to a wireless network and provides a high-speed transmission. Once connected to your protected wireless network with the Internet access, you can enjoy browsing and chatting with your friends online.
Better Speeds, Better Coverage
The DWA-X582 Wireless Adapter lets you connect to your wireless network with faster speeds in comparison with 802.11ac and 802.11n dual band adapters. The DWA-X582 supports operating in one of two frequency bands (2.4 GHz or 5 GHz) and provides maximum wireless speed up to 574 Mbps in the 2.4 GHz band and up to 2402 Mbps in the 5 GHz band. While operating in the 5 GHz band, the DWA-X582 allows to reduce an impact of interference from other wireless networks, improve a throughput and therefore increase the speed of streaming data, online games and VoIP calls.
General

• PCI Express (PCIe) (Wi-Fi)
• USB (Bluetooth)

• PCI Express x1/x4/x8/x16

• Two 5 dBi detachable antennas

• 802.11b/g/n/ax: 2.4 GHz to 2.4835 GHz
• 802.11a/n/ac/ax: 5.15 GHz to 5.35 GHz, 5.725 GHz to 5.825 GHz

• Wi-Fi Protected Setup
• 64/128-bit WEP
• WPA/WPA2
• WPA3

• IEEE 802.11a: 6, 9, 12, 18, 24, 36, 48 and 54 Mbps
• IEEE 802.11b: 1, 2, 5.5 and 11 Mbps
• IEEE 802.11g: 6, 9, 12, 18, 24, 36, 48 and 54 Mbps
• IEEE 802.11n: 6.5 to 300 Mbps (MCS0 to MCS15)
• IEEE 802.11ac: up to 866 Mbps
• IEEE 802.11ax (2.4 GHz): up to 574 Mbps
• IEEE 802.11ax (5 GHz): up to 2402 Mbps

• 65 x 44.5 x 1.6 mm (PCB only)

• Windows 10 (32/64)
• Linux 5.1 and later

• Operating: 0 to 70 °C
• Storage: -10 to 80 °C
Want to know about new products
Subscribe to our newsletter